Recent Exhibitions:
Tiny Art Holiday Show - West Vancouver Library Dec 2021- Jan 6, 2022
North Van Arts - You Are Here Calendar & Touring Exhibition - 2021
Surfacing - Hearth Gallery -August 2020
Saving Sea to Sky- Hearth Gallery -July 2020
North Van Arts -Rental Show - September 2020
Rust Winery - Oliver BC - Artist in Residence & Exhibition - Summer/fall 2020 - ongoing
2019
Conceal and Reveal: Solo Exhibition - Hearth Gallery
Gallery at The Cultch: 2-person show
Canvas Unbound –FCA Gallery Online
It's a Wrap – Group Exhibit – Gallery @ Cove Commons
Solo Show, Artist in Residence – Rust Winery, Oliver, BC
Painting on the Edge – FCA Gallery Online
Wearable Arts Show – The Gallery @ Cove Commons
2018
Solo Show - The Kube Studios, Gibsons, BC
Bloom - FCA Gallery, Granville Island, BC
Photobase: Re-imagined Memories - Cityscape Gallery, N Vancouver, BC
Abstracted - FCA Gallery, Granville Island, BC
Art Rental Exhibition- Art Rental Program: Cityscape Gallery, North Vancouver, BC
2017
Marked by Time/2 person Exhibit - Silk Purse Gallery, W. Vancouver, BC
Edge and Form/3 Person Exhibit - Ferry Building Gallery, W. Vancouver, BC
Life Coastal/3 Person Exhibit - BIAC Gallery, Bowen Island, BC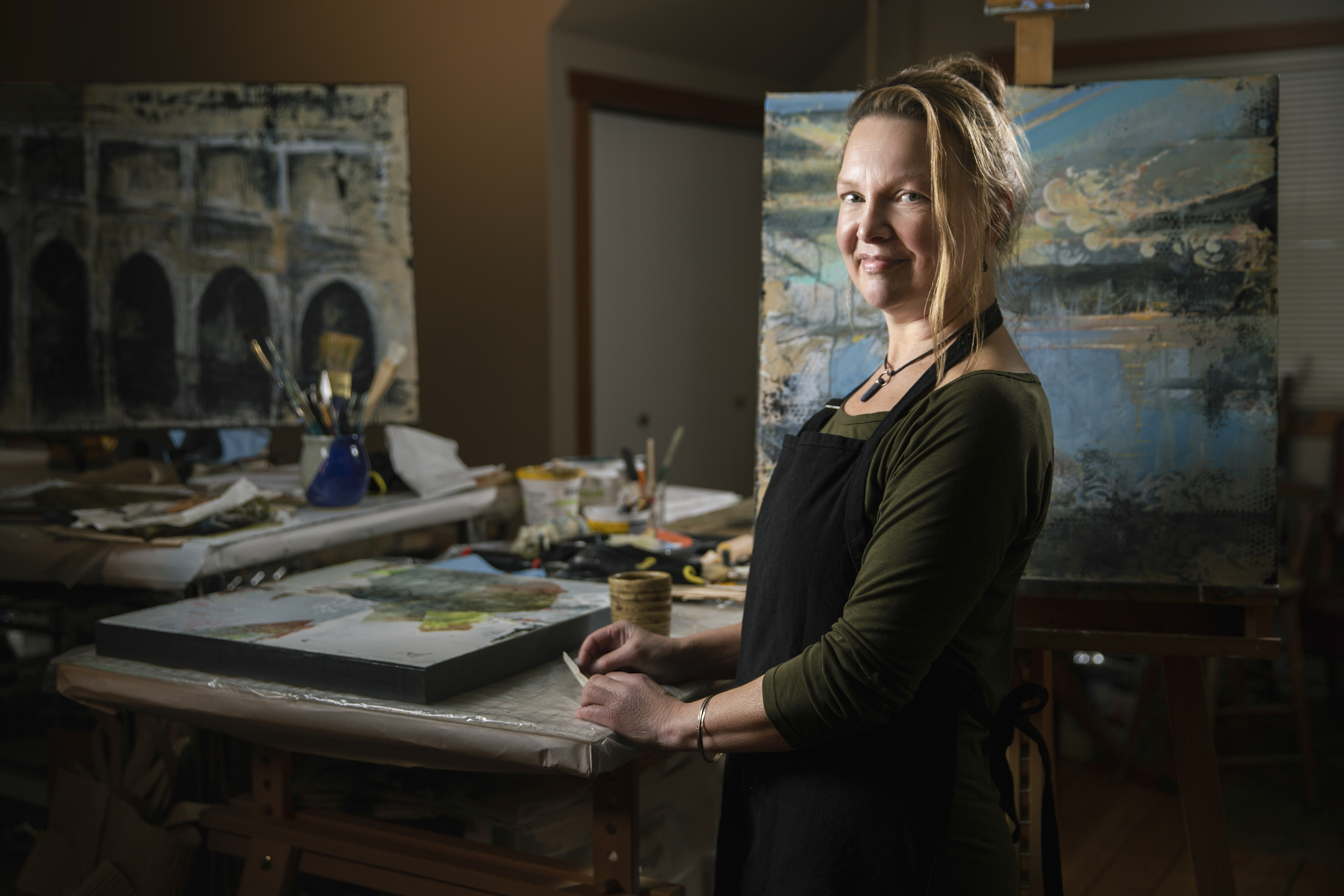 A B O U T k a t h l e e n
Kathleen has studied and created fine art, costumes, and textile arts for over 35 years.
She works with a variety of media and techniques including painting, photography, sculpture and textiles.
Early studies at Emily Carr led Kathleen to work in props and costuming for a variety of dance,TV and film productions. Her education at Capilano College includes diplomas in studio arts, textile arts, and ceramics. She actively creates, exhibits and teaches in these areas, a natural progression for her many years of art practice. These experiences inspire a deeper connection to her creative process.
She is co-owner of Catching Stars Cooperative Gallery on Bowen Island and her work is represented there. Kathleen offers mixed media art workshops through the Hearth - Arts on Bowen where she works as their program coordinator. Kathleen has participated in exhibition and returned for her third year as one of the featured artists at Rust Wine Co. in Oliver, BC. She is the featured artist for the Bowen Island Community Foundation for 2020 - 2022
ARTIST'S STATEMENT
Impermanence and the cycles of nature are my inspiration. Light emerging from shadow, the relationships between humans and nature, rich surfaces echoing time-worn layers scoured by the elements, deep pools of water, reflections, mist on the shoreline, are captured in layers of paint and other materials.
I am intrigued by the patterns and repetition found in nature's microscopic to cosmologic worlds and how they are reinterpreted in the built environment.
My passion is in the process and materials. Awakening the surface with bold, intuitive marks, layers of found materials, paint, and textures captures the early freedom and spontaneity. Much is learned from experiments and working intuitively, embracing the unexpected and responding spontaneously.
When I am immersed in art making there is a sense of freedom, an unmeasured sense of time - kairos, or episodic, rather than chronos, or linear.
© Kathleen Ainscough 2017 - 2021